SoFi Student Loan Refinancing Review (2023)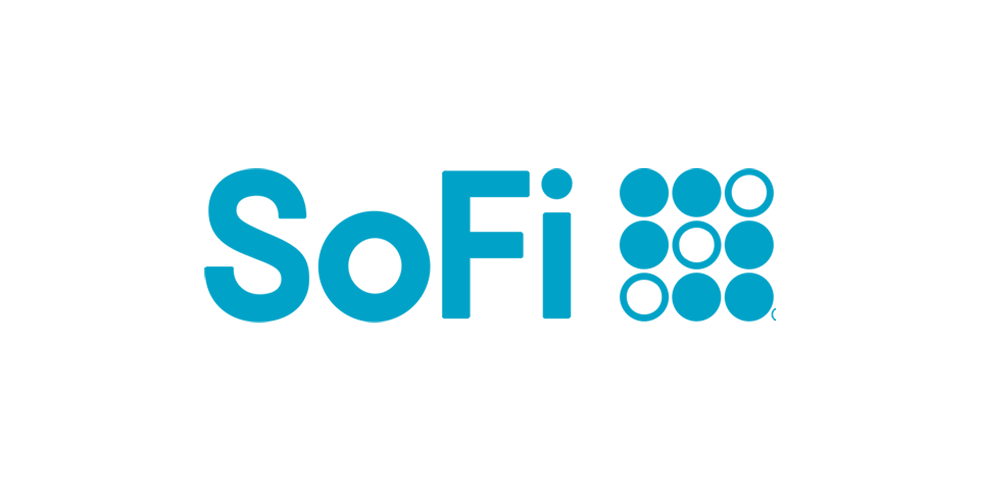 Whether it's a student loan, personal loan, or a high credit card balance, getting a SoFi loan can provide a financial cushion. Consumers have many options and should compare multiple lenders, but SoFi presents advantages, especially for those looking at student loan refinancing lenders.
SoFi is an all-in-one financial resource for people who want to borrow money, invest, and manage their finances. The company has been at it for over a decade, helping borrowers finance billions of dollars worth of debt. Borrowers can browse several financial products and student loan refinancing plans, each with fixed and variable interest rate options.
In this SoFi review, you will learn about SoFi's loan options, credit scores needed to qualify, and other details about the popular online lender.
You can tap on our Table of Contents below to jump ahead.
The Basics
SoFi is a reputable lender with over 10 years of experience. The company offers a suite of financial products, ranging from student loan refinancing and personal loans to stock investing and checking accounts. Here is some basic information about the company.
SoFi was founded in August 2011. SoFi is short for Social Finance.
SoFi's four founders (Mike Cagney, Dan Macklin, James Finnigan, and Ian Brady) met at the Stanford Graduate School of Business
The company initially focused on serving students with federal and private student loans. The company continues to serve this core audience while expanding to offer mortgages, personal loans, credit cards, refinancing, and more.
SoFi closed 2022 with over 5.2 million members.
SoFi: Products Offered
SoFi offers a wide range of financial products that can serve your needs. Here's a list of loans and other resources you can expect to find as a SoFi member.
Student Loan Refinancing
Personal Loans
Credit Card Consolidation
Home Improvement Loans
Student Loan Refinancing
Student loan refinancing can make it easier to pay off student loan debt. If you want more flexibility with private or federal student loans, SoFi can help. They also have specialized options for medical and dental residents with student loans.
The Benefits
SoFi student loans can make monthly payments more manageable: You can free up more room in your budget. Some borrowers use a refinance to shorten their loan term instead and get out of debt sooner. SoFi lets you use both options for your student loans.
No fees: With a SoFi student loan, you don't have to worry about the origination fee, a prepayment penalty, or any late fees. Other lenders charge those fees, increasing your costs in the process. You can either pay them upfront or add them to the backend of your loan. Borrowers taking out loans with SoFi don't have to worry about this scenario.
Competitive interest rates: SoFi's loan features a fixed interest rate that starts off as low as 4.49% APR depending on your credit score. You can also look through variable rate loans if you believe interest rates will fall in the future.
The Drawbacks
Getting student loan refinancing with SoFi isn't easy: Most borrowers need a 700 credit score to qualify for a student loan with SoFi. This is slightly higher than the 680 minimum score for other SoFi loans.
Losing out on benefits from federal student loans: When you refinance a loan, it becomes a private student loan. These private loans do not have the federal benefits and protections you will find in federal loans. This issue exists within the lending industry and isn't specific to SoFi.
Job requirement: SoFi requires each applicant to have a job with a steady income. If you do not fulfill this parameter, you must have a job offer in hand and the ability to start working within 90 days. Otherwise, you cannot get student loan refinancing from SoFi. Not every lender has this requirement, but you might get stuck with a higher interest rate if you go with online lenders that have easier requirements.
Personal Loans
Personal loans are a catch-all financial product that you can use to cover any expense. Most of these loans are unsecured, which means you don't have to put up any collateral. You also won't have to worry about fees.
The Benefits
High loan maximums: You can get started with a $5,000 personal loan. However, if you want to borrow more money, you can borrow up to $100,000 with a Sofi loan.
Same-day funding: Want the cash right away? SoFi has free same-day funding available. You will receive capital within 24 hours of getting your loan application approved. The same-day turnaround does not impact your credit history or score.
Competitive rates: Interest rates vary for each SoFi loan and are also based on the borrower's credit score. SoFi personal loans have rates as low as 7.99% APR which go to borrowers with excellent credit.
The Drawbacks
High credit requirement: You will need a 680 credit score or higher to qualify for a SoFi personal loan. You might get a personal loan from another lender even if you have a lower credit score.
SoFi does not allow co-signers: Many online lenders let you use co-signers for your loans. You can use a co-signer's credit report and financial history to make your application more enticing. Some people can only get loans if they use co-signers, but SoFi does not allow this practice.
You might find a lower interest rate somewhere else: A 7.99% APR is a competitive rate, but you may find a lower interest rate somewhere else. However, it's more difficult to find interest rates below 7.99% APR due to rising rates all across the board.
Credit Card Consolidation
Credit cards are notorious for high interest rates. They aren't as bad as payday loans, but some credit cards have APRs that exceed 20%. SoFi's credit card consolidation offers a viable solution for people who want lower interest payments.
The Benefits
Secure a lower interest rate: Credit cards have higher interest rates than most personal loans. SoFi loans start at 7.99% APR which is a bargain compared to credit card rates.
No fees: SoFi's credit card consolidation loans do not include origination fees, prepayment penalties, or late fees. Most banks and credit unions charge those fees to take out loans with them.
Borrow up to $100,000: The high loan maximum can help most borrowers consolidate all of their credit card debt under a more affordable interest rate.
The Drawbacks
Fixed monthly payments: Debt consolidation loans feature monthly payments that are often higher than the minimum monthly payments you may find on credit cards. Borrowers can compensate for monthly payments by extending the loan's duration. This strategy minimizes your monthly payments and also improves your DTI ratio.
You need a good credit score: SoFi only gives these loans to consumers who have 680 credit scores. A higher credit score entitles you to a lower interest rate on the loan.
You must borrow at least $5,000: The high loan minimum can help with some debt, but it can result in extra interest payments for someone with a small credit card debt. You can use the remaining funds to cover other debt at higher rates or in any way you desire.
Home Improvement
Need to improve your home? Not everyone has enough funds in their bank accounts, but a home improvement loan can provide the capital you need. SoFi offers these loans to homeowners who are eager to invest in their properties.
The Benefits
Same-day funding: Get your proceeds within 24 hours of getting your loan approved. You won't have to wait long to get the capital you need and deserve.
No collateral: A home improvement loan does not require any collateral. Some homeowners turn to home equity loans and HELOCs to get their financing instead, but those loans require you to use your home as collateral. If you don't feel comfortable taking that type of risk, a SoFi home improvement loan can be a good option.
No appraisal required: Mortgage lenders often require appraisals if you want to take out a home equity loan or line of credit. Those expenses fall on the consumer, and you may not be happy with the appraiser's number. If you take out a home improvement loan instead, you don't have to worry about the appraisal. Eliminating the appraisal process saves you time and speeds up the loan application process.
The Drawbacks
680 minimum credit score: It's a higher barrier to entry than other online lenders. You may have to improve your credit score before taking out a home improvement loan with SoFi.
Interest rates: The rate on your loan will be anywhere from 7.99% to 23.43% APR depending on your credit score, debt to income ratio, and other factors. You might get a lower APR with a home equity loan or a home equity line of credit. However, those financing options require that you use your home as collateral, a risk that not everyone wants to take.
Fixed monthly payments: Borrowers have to make fixed monthly payments for home improvement loans and home equity loans. However, a home equity line of credit starts off with interest only payments and low monthly minimums. You might have more room in your budget with a HELOC, but that debt will eventually become due. A home improvement loan starts you off with monthly payments right away on a term ranging from 24-84 months.
Trustpilot Reviews
SoFi reviews tend to be positive, and you can find them in many places. These SoFi reviews on Trustpilot highlight some of the customer experiences.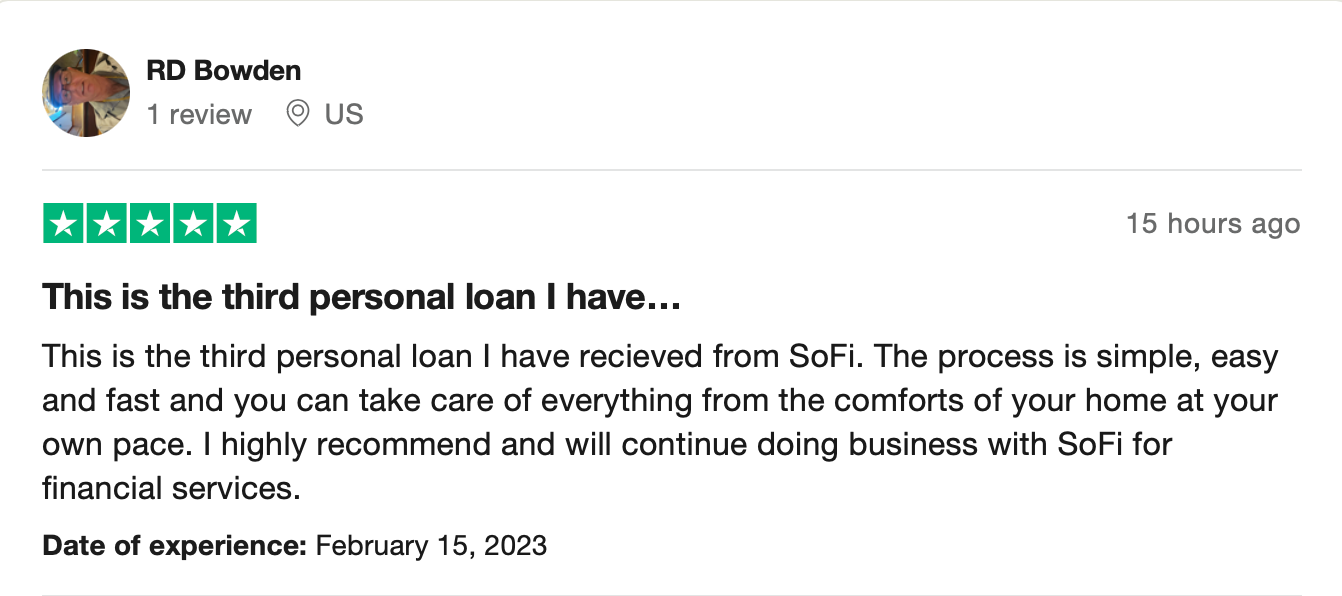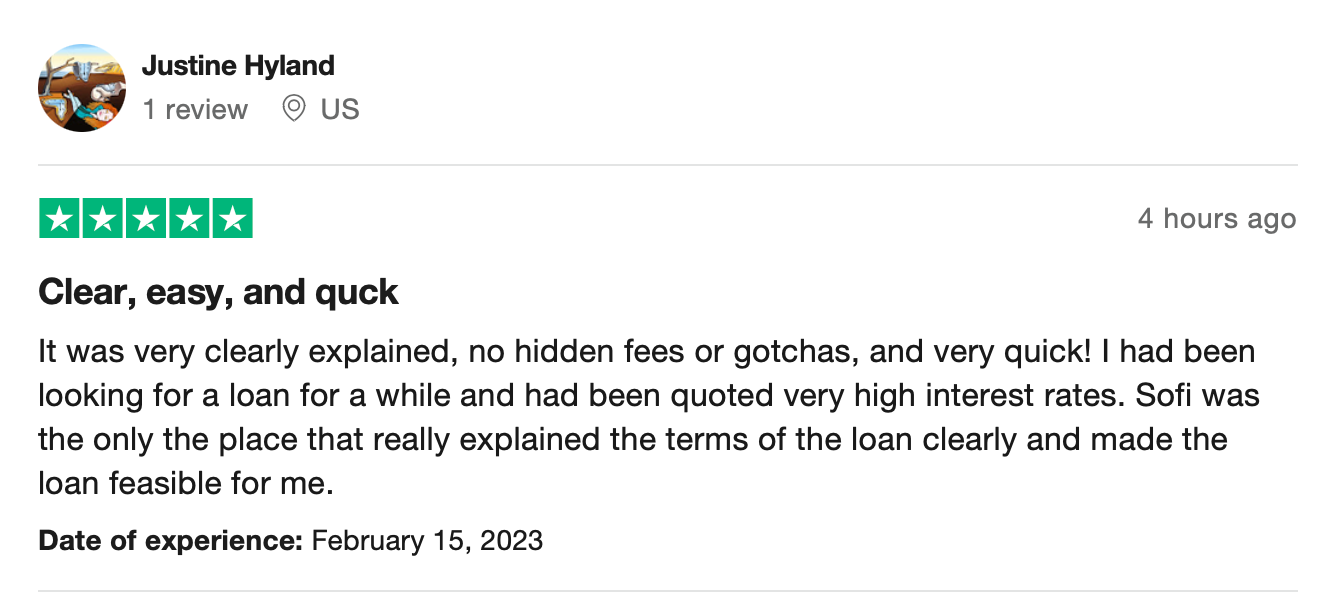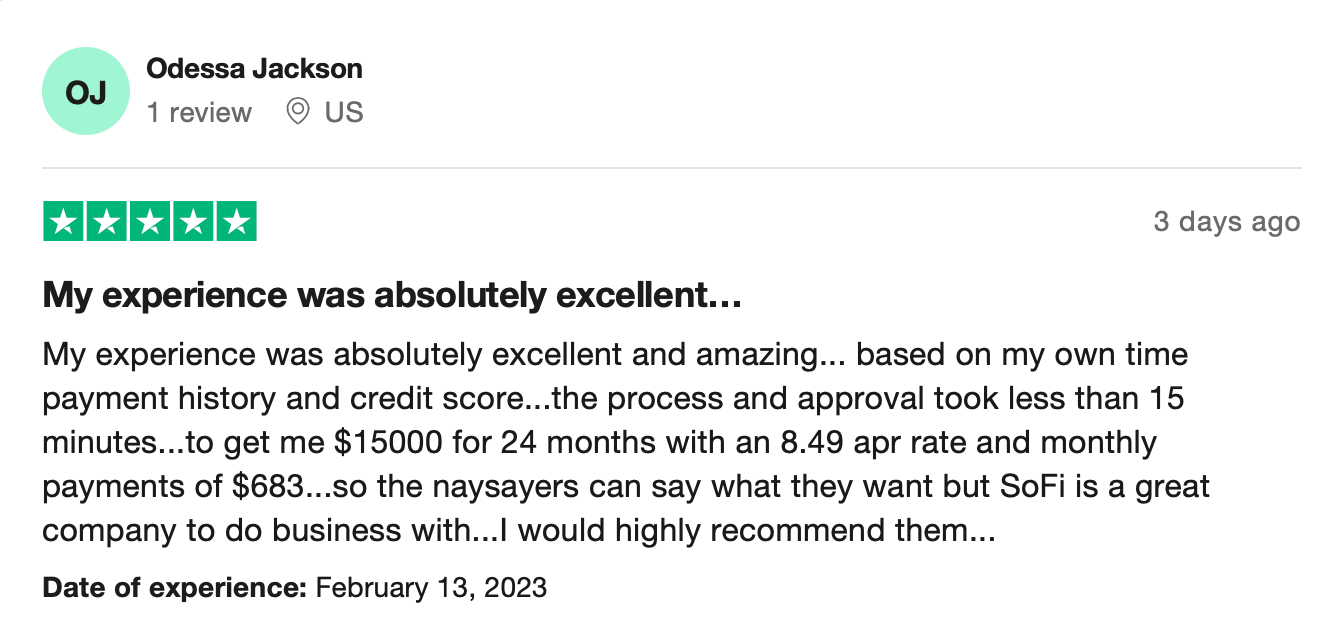 Frequently Asked Questions
What credit score do you need for SoFi?
Your minimum credit score depends on the type of loan you want. Most of their financial products have a minimum credit score of 680. Most people seeking SoFi student loan refinancing need a 700 credit score or higher.
Will student loans with SoFi be forgiven?
A SoFi student loan is not eligible for student loan forgiveness programs, but the same truth applies to all private loans. The forgiveness program applies to federal loans. The student loan refinancing process converts the debt into a private student loan. The federal government programs only repay students who owe money to the government. Borrowers with private student loans owe their debt to private lenders. However, you might be eligible for student loan forgiveness if you refinanced your federal student loan with SoFi during the pandemic.
Is SoFi a legitimate lender?
SoFi is a legitimate lender with over a decade of experience. The company has over five million members and over $73 billion in funded loans. Many customers speak of their good experiences on Trustpilot, Google Play, and Apple's App Store. SoFi has over 250,000 reviews spread across those platforms.
Is it hard to get approved by SoFi?
You need to have a 680 credit score or higher to get approved for most of their loans. Other lenders may be more generous with their credit score requirements, but you can get better rates and terms with SoFi. You will also need a reasonable debt to income ratio. Borrowers can consider loans with longer terms to have more favorable debt to income ratios.
Does SoFi do a hard pull for personal loans?
SoFi will not do a hard pull on your credit report if you want to see your rate during the prequalification process. However, if you submit an application for that loan offer, SoFi will do a hard check on your credit history. You only get a hard pull on a personal loan if you move forward with the application. If you do the prequalification process and don't apply, your credit score will not be impacted. Most of the other lenders follow the same policy. A hard credit pull only decreases your credit score by a few points and is easy to recover from.