Instant Loan Apps That Will Spot You Til Payday
Do you ever need cash or a short-term loan to hold you over? Or financial assistance for an emergency bill? Finding a popular paycheck advance app offering $100 instantly might just be the solution you're looking for. In fact, millions of Americans already use them.
These innovative apps connect borrowers with lenders, offering small loans with fast approval – and typically without the need for credit history or to review your credit report. This means that even those with a low credit score can find online lenders that will give them cash fast.
In this post, we'll introduce you to our roundup of ten $100 loan instant apps to help you get the funds you need quickly and hassle-free, whether you have less than perfect credit or no credit at all.
From apps that offer low fees, to loan providers that offer the option of a same day loan to your savings account, and even those with larger loan amounts and flexible repayment options. So, let's dive into which instant loan app is best for you.
Key Takeaways
Every instant loan app is different, but receiving a top loan often hinges on showing a positive banking history by linking your bank account information.
Multiple lenders offer both instant cash and an option to receive your pay two days early once a relationship is established.
Once you've identified which app best suits you, it's critical to read their fine print to understand how their instant loans work so you will know the total cost of borrowing.
Our Top Ten $100 Loan Instant Apps for 2023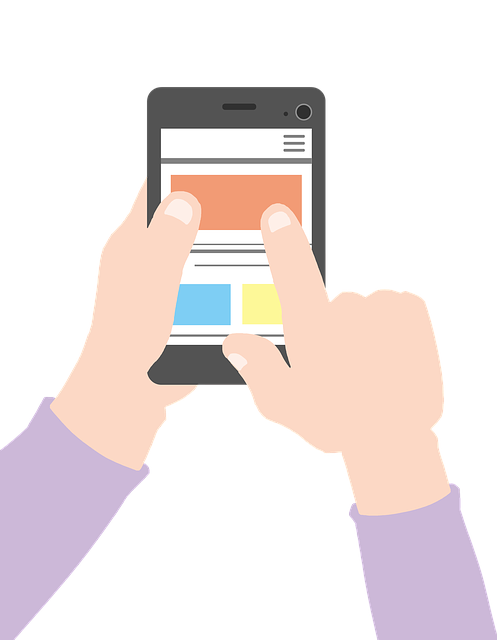 Financial emergencies can strike at any time, and if you haven't had the funds to save money, you need a reliable solution to allow you to borrow money instantly. Finding money from a traditional credit union or other financial institution can be difficult if you have less than perfect credit. It also can take anywhere from 30 to 90 days to get funds into your savings accounts.
Thankfully, a wide range of instant loan apps can help you stay afloat, handle an emergency, and stay on top of your finances.
From lenders with low monthly payments, to lenders with a low instant transfer fee, to lenders that can get you money on the same business day, below are our top ten picks for 2023 include:
Albert
Earnin
Dave
Brigit
Klover
Cleo
Floatme
Beem
MoneyLion
Vola Finance
Each of these apps offers unique features and perks, making it easier than ever to access a small loan without the need for a credit check or lengthy approval process.
We'll cover each app's top features to help you see which might be the best option for you when you are looking for quick cash.
1. Albert for up to $250
4.6 stars • 157.7K Ratings in the App Store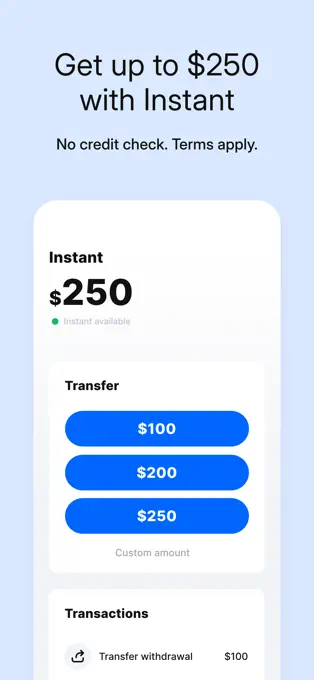 Albert serves as a comprehensive financial platform, providing online banking, investment opportunities, and instant payday loans of up to $250 fee-free. With a team of money experts, Albert helps people with budgeting, credit cards, and student loans.
No credit or bad credit? No worries? If you get a paycheck Albert offers guaranteed approval to help you get the funds you need when you need them most.
The Albert app has no hidden fees, and qualified users enjoy benefits, such as:
Up to $250 fee-free with no credit check and no overdraft fees
Loan deposits up to 2 days earlier with direct deposit setup completed to an external bank account
Cashback on purchases made with the Albert debit card
2. Earnin for up to $100 per day
4.7 • 255.2K Ratings in the App Store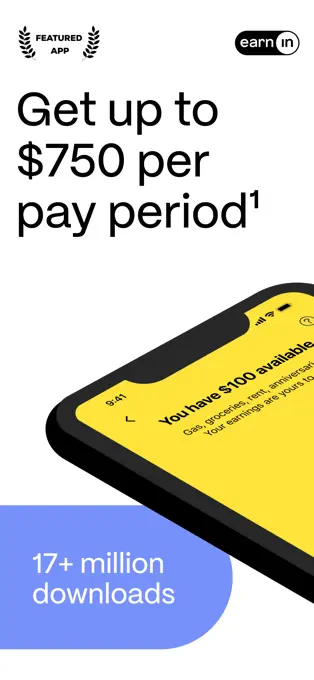 Earnin, an innovative instant loan app, and direct lender, offers loans up to $100 per day or up to $750 per pay period as a paycheck advance without interest or fixed fees. They also allow you to determine the cost through the "tip" you set.
Earnin is a quick and convenient option for unlocking early access to the funds you already earn without the burden of traditional cash advances or payday loans. You will have access to your money within minutes of earning it instead of having to wait a week or more to get access to it.
The process is simple. Earnin works with your existing bank account and debit card, and the loan money is simply repaid once your qualifying direct deposits hit.
Features from Earnin include:
Integration with the most common bank accounts and credit unions, so you don't need to set up a new account
The ability to access your earnings in minutes with Lightning Speed transfers
Balance Shield which is designed to provide alerts when your bank account is running low
3. Brigit for $50 to $250
4.8 stars • 244.4K Ratings in the App Store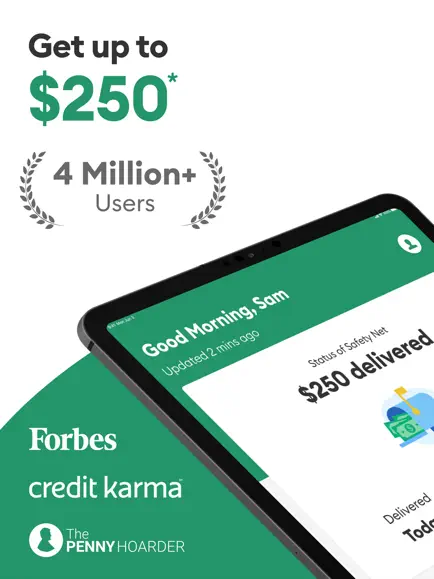 Brigit claims their personal finance app has saved their users over $300 million, 91% of users feel less stressed financially, and their great App Store reviews seem to support that notion. Most notably, they offer credit builder loans, credit score insights, and extend extra cash when you need it.
Their process is simple. You start by signing up, connecting the information from your bank, and requesting the desired amount and repayment option. Within minutes you will have your decision and can have your cash in as little as 20.
There are many benefits Brigit has to offer. such as:
Getting up to $250 fast without overdraft fees
Enjoying no credit check, interest, processing fees, late payment fees, or tips
Repaying when you get paid or when you can afford it by deciding the term in the app
4. Dave ExtraCash
4.8 stars • 648.5K Ratings in the App Store
Dave's ExtraCash can offer up to $500 in a pinch if you qualify, but the average amount that is approved is around $120. The wildly popular instant loan app also offers an early payday solution by using their Dave Spending account.
Some unique features of Dave include:
Advances up to $500 instantly (with a $120 loan amount being the average approved)
Side Hustle features to find new ways to earn extra cash
Dave Goals to set and manage a savings plan
5. Klover for up to $200 Instant Cash Advance
4.7 • 137.6K Ratings in the App Store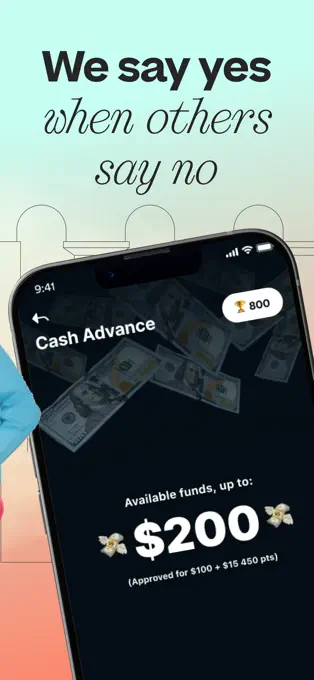 Klover, an instant cash app, provides money instantly up to $200 with no credit check, and no interest once qualified. To use Klover, you just need to download the app, create an account, and connect your bank account to access your advance.
The main downside to the app is that Klover needs to see three consistent direct deposits before you can get a Klover advance but once you meet the requirements, you will be able to borrow cash quickly and easily.
Other than Klover's cash advance offering, you can also expect:
Points for taking surveys and watching ads that can be cashed in with an advance later
Sweepstakes which provides a chance to win $200 every day
Budgeting tools to create spend and save goals to help you to get financially on track
6. Cleo for up to $250 Cash Advance
4.6 • 88.7K Ratings in the App Store
Cleo offers up to $250 in a payday advance with an AI-based money coach and has helped 5 million members budget, save, and borrow in urgent moments of need. Their cash advance of up to $250 is offered with no interest, no credit checks, and no late fees. Unlike some other instant cash advance apps, Cleo doesn't require direct deposit.
Cleo is a well-rounded app with many benefits:
Saving tools to automate more of your planning
Credit building without a credit card
The ability to access your paycheck up to 2 days early when you do set direct deposit
7. Beem EverDraft for $20 to $1,000
4.4 stars • 19K Ratings in the App Store
Beem, a smart wallet app with instant cash advance features, lets you borrow money from $20 to $1,000, free from fees, interest, credit checks, or income restrictions. You just need to download the app, check your qualifications, subscribe, and choose how you'd like to receive your money.
Beem has more options than most cash advance apps for how you can receive your money. You can choose from gift cards, debit cards, bank accounts, checks, and virtual cards.
They also help you focus on good financial behavior with the added incentive of earning cash for such things as making payments on time and avoiding overdrafts.
Some of the amazing benefits of Beem include:
Rewards for positive financial behavior
The ability to settle your short-term loan when you have the funds.
No additional fee for late payment of Everdraft dues
8. MoneyLion Instacash for up to $500
4.7 • 104.8K Ratings in the App Store
MoneyLion, an all-in-one finance finance app, offers instant loans as high as $500 and an option to get paid two days early.
MoneyLion provides a simple application process, allowing you to quickly request a loan and deposit the funds into your linked checking account. The amount you received will be deducted from your account on your next pay date with no interest.
The MoneyLion is a short-term lending app that offers benefits, such as:
Paycheck advances up to $500.
No overdraft fees.
Repayment date extensions
9. Vola Finance for up to $300
4.5 • 15.6K Ratings in the App Store
Vola Finance, a cash advance-focused app, provides instant loans up to $300, requiring a subscription fee but no other charges. By signing up for a subscription, you can access Vola Finance's services and get the funds you need without incurring additional costs.
To borrow money, they check to see if your connected bank account is over three months old, is frequently used, has an average balance of over $150, and has active income and deposits. That is all you will need to qualify for some quick cash.
In addition to instant loans, Vola Finance features Vola Score which helps you monitor how you're doing with your finances. You will then be gradually offered more benefits as you keep your account active, improve your average bank account balance, and read financial literacy content.
Some of the benefits that come with the Vola finance app include:
Regular credit bureau reporting to help you increase your credit score
No overdraft fees
No extra fees after the subscription cost
10. Empower for up to $250 within 5 minutes
4.8 • 125.9K Ratings in the App Store
Empower charges about $8 per month, but if qualified, it can be one of the fastest options to borrow money. They will look at your spending habits, bills, and how much and often you get paid to see if you qualify.
With lower borrowing requirements, more users may qualify and the app offers quick cash, though the advance amounts may be smaller than other apps.
As an instant loan app, they offer:
Loans free of interest or late charges
No credit check is required
Flexible repayment for when you have the cash
Options for freelancers and gig workers
Funding in as little as one day
Budgeting and credit-building features
Empower is a great option for those looking for a quick and hassle-free way to access funds without the worry of hidden fees or interest charges.
Understanding Instant Loan Apps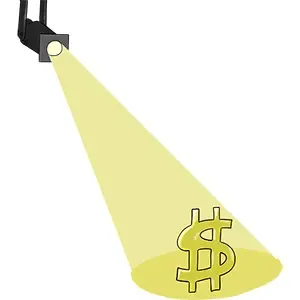 How Do They Work?
The popularity of instant loan apps has surged due to their ability to provide swift and convenient access to funds without sky-high fees and often without a credit check. These apps are quick and easy to get started with and typically make quick approval decisions by scanning historical banking and spending patterns.
Once approved, loan funds are most commonly deposited into a linked checking account or a spending account with the app. A positive account history typically increases credit and loan limits over time. This makes them ideal for funding unexpected expenses or emergencies.
Benefits of Using Instant Loan Apps
Compared to traditional payday loans, instant loan apps present several benefits, including reduced interest rates, flexible repayment terms, more transparency, and the capacity to procure larger loan amounts. Additionally, instant loan apps often require no credit check, making them an appealing option for those with poor or limited credit history.
These apps also provide a faster and more convenient application process than traditional loans, allowing users to access funds quickly and easily. With the many benefits instant loan apps offer, it's no wonder they've become popular for borrowers seeking a reliable loan solution.
The Cost of Borrowing $100 via an Instant Loan App
Before deciding to borrow $100 via an instant loan app, it's crucial to comprehend the possible associated costs. These costs can vary depending on the app but typically include subscription fees instead of interest rates and other charges.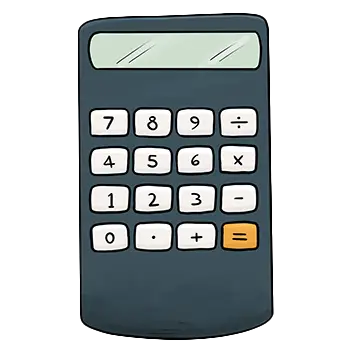 Subscription Fees
Certain instant loan apps charge a monthly subscription fee for their offerings. While subscription fees can add up over time, they may still be a much more affordable option than the high-interest rates and fees associated with traditional payday loans.
It's important to research and compare different instant loan apps to determine the best option for your financial needs and weigh the costs of the subscription-based on interest with other funding options before coming to a final decision.
Interest Rates
Most cash advance apps don't earn revenue based on interest rates for instant loans and typically charge via subscription or tipping fees. This can save you money in the long run, as you'll likely pay less in total cost over the course of your loan.
However, keep in mind that costs vary between different loan apps, lenders, and loan offers, so it's important to shop around, read the fine print, and compare total costs and repayment terms to find the best deal for your situation.
Other Charges
Beyond subscription fees and interest rates, borrowing $100 via an instant loan app might incur other charges. These can include fees for instant transfers or late payment costs.
To avoid any surprises, it's important to carefully review the terms and conditions of each app before borrowing money. By being aware of all potential fees and charges, you can decide which instant loan app fits you best.
Comparing Instant Loan Apps to Traditional Payday Loans
The differences in fees, interest rates, and application procedures should be considered when comparing instant loan apps and traditional payday loans. Instant loan apps generally offer lower fees and interest rates compared to high-fee, high-interest payday loans, often making them a more affordable option for borrowers.
Additionally, instant loan apps can provide a faster and more convenient application process, allowing users to access funds quickly and easily, without waiting for a significant amount of verification.
Fees and Interest Rates
Compared to traditional payday loans, instant loan apps usually charge for their services without interest rates. For example, many instant loan apps charge a subscription fee rather than an interest rate, which can save you money over the course of your loan.
When comparing both options, fees and interest rates are crucial to consider as failure to take them into consideration may result in more stressful financial issues.
Additionally, the fees associated with instant loan apps are often more transparent, making understanding the true cost of borrowing easier. By comparing the fees and interest rates of instant loan apps and traditional payday loans, you can ensure you're making the best decision for your financial situation.
Application Process and Speed
The accelerated and straightforward application process emerges as a prime advantage of instant loan apps over traditional payday loans. With instant loan apps, you can apply for a loan directly from your mobile device, understand qualifications, and receive approval within minutes.
This starkly contrasts traditional payday loans, which often require a lengthy application process and may take days to be approved. By offering a faster and more convenient application process, instant loan apps make it easier for borrowers to access the funds they need when they need them.
Eligibility Requirements for $100 Loan Instant Apps
Borrowers must fulfill specific eligibility criteria to qualify for borrowing from the app and a $100 instant loan. Requirements can vary depending on the app but typically include age and residency requirements, income and employment requirements, and banking history.
Instant loan apps do not perform hard credit checks which can be extremely beneficial if you are working on improving your credit score.
By understanding the eligibility requirements for $100 loan instant apps, you can ensure you meet the criteria, increase your chances of being approved for a loan, and download the right app for borrowing money.
Age and Residency
Cash advances and personal loans are often regulated at the state level so, borrowers aiming to qualify for an instant loan app must be at least 18 years old and a resident of the state where the app is permitted.
This ensures that borrowers are legally able to enter into a loan agreement and have the necessary documentation to verify their identity and address.
For the purposes of age and residency verification, most apps will accept one of the following forms of identification:
Driver's licenses
State ID card
Military ID
Green Card
Passport
Income and Employment
Beyond age and residency prerequisites, borrowers also need to have a consistent income source to qualify for an instant loan app. This income can come from benefits, a job, or self-employment, but it must be consistent and verifiable.
By demonstrating that you have a reliable source of income, you can increase your chances of being approved for an instant loan and ensure that you can repay the loan in a timely manner.
Banking History
Lastly, instant loan apps might necessitate borrowers to maintain an active bank account and demonstrate consistent banking behavior. By maintaining a positive checking account balance and avoiding issues such as overdrafts, infrequent deposits, or income, you can demonstrate to lenders that you are a responsible borrower and increase your chances of being approved for an instant loan.
By meeting these banking history requirements, you can confidently apply for an instant payday loan and access the funds you need.
Tips for Using Instant Loan Apps Responsibly
Although instant loan apps serve as a popular solution for fast fund access, their responsible use is essential to avoid a debt trap and build a positive relationship with an instant cash advance app.
By borrowing only what you need, planning for repayment, understanding the costs and fees, and considering alternative options, you can make the most of instant loan apps and ensure that you're making the best decision for your financial situation.
Borrow Only What You Need
A crucial tip for using instant loan apps responsibly is only to borrow what's absolutely necessary. By only taking out the amount necessary to cover immediate expenses or emergencies, you can avoid taking on more debt than you can manage.
Know Your Fees and Costs
Knowing the true and total cost of your instant cash loan, whether it involves a transfer fee, tip or subscription fee will help you better understand the true cost of the loan. Knowing the total amount that you will end up paying for the borrowed money will help you determine if the instant loan option is the best avenue to meet your cash needs.
Plan for Repayment and Stick to It
Having a repayment plan is another important element in responsible usage of instant loan apps. Late payments can result in additional fees and, depending on the app, damage to your credit score, making it more difficult to obtain credit in the future.
By creating a repayment calendar and setting aside the necessary funds, you can ensure that you're able to repay the loan in a timely manner and avoid potential financial consequences. Even more, when your app reports payments to credit bureaus, regular on-time payments will help improve your credit score and open up other potential lending options.
Summary
Instant loan apps can offer a convenient and accessible way to access funds quickly and easily without the need for a credit check and lower eligibility requirements than most other personal loan options.
While a variety of apps are available, each offers unique features, costs, and terms, it's important to dig into each instant loan app on its own. Understanding eligibility requirements, how the app works, and its total costs allows you to confidently apply for an instant loan and borrow the money when you need it.
Borrowing only what you need and when you need it, understanding all of the costs associated with the loan, and planning for repayment can help ensure you're using instant loan apps responsibly, and you'll also make the most of instant loan apps by building a positive history and unlocking more benefits over time.
Frequently Asked Questions
What app will give me $100 instantly?
If you qualify, Albert, Earnin, and Brigit are our top picks for you to get $100 instantly. Download these apps today to see if you qualify to get the cash you need fast.
How quickly can I access funds through an instant loan app?
You can get access to funds through an instant loan app within minutes to days. The speed depends on the app, your income or repayment history, and often the speed you choose to receive the funds.
Are there any fees or interest charges associated with borrowing $100 through an instant loan app?
Borrowing $100 (or more) through an instant loan app may incur subscription fees, transfer fees, and other charges, so be sure to read the app's fine print to understand the full cost of borrowing.
What are the eligibility requirements for borrowing $100 through an instant loan app?
Eligibility requirements vary by app, but to qualify for a $100 loan through most instant loan apps, you need to be of legal age, a resident of a state they operate in, have frequent income, and manage a positive banking and spending history.
About The Author
Melissa Nason Ferreura has been working and writing in the finance field for more than a decade, focusing on publications designed to help readers make their money work to their advantage to achieve both their short-term and long-term financial goals. An avid investor and saver throughout her life, Melissa shares her knowledge on topics such as credit building, money management, investment strategies, and making the most out of retirement savings.