Citizens Bank Student Loan Refinancing Review: Low Rates, Many Repayment Options
Looking to free up space in your monthly budget? A student loan refinance can help. These financial products let you add more years to the backend of your loan to get lower monthly payments. Borrowers can also secure lower interest rates if they have a high rate for their current student loan.
Citizens Bank is one of the many financial institutions that offers student loan refinancing. Citizens Bank has been around for almost 200 years, with its founding taking place in 1828 in Providence, Rhode Island. Citizens Bank has various financial products that can help at different stages of your life.
In this Citizens Bank review, you will learn about the bank's competitive rates, how student loan refinancing works, and which financial products they have to offer. To jump ahead, tap our Table of Contents below:
The Basics
Citizens Bank is a long-standing financial institution with over $226.7 million in assets as of December 30, 2022.
Citizens Bank has over 1,100 branches and 3,400 ATMs in 14 U.S. states.
Citizens Bank employs over 17,000 people.
Citizens Bank was founded in 1828 in Providence, Rhode Island, as High Street Bank.
Latt Maxcy founded Citizens Bank with six local businessmen.
Products Offered
Citizens Bank doesn't stop with student loan refinancing. The financial institution offers several products, including the following:
Student Loan Refinancing
Home Loans
Auto Loans
Credit Cards
Student Loan Refinancing
Student loan refinancing can lower your monthly payments or get you out of debt faster. While some people achieve both objectives at the same time, refinancing usually lets you accomplish one or the other. Citizens Bank can help you along the way.
The Benefits
You can include a cosigner on the loan: Not all student loan providers let you add a cosigner to your loan. Including a cosigner can help you qualify for better loans and get lower interest rates. Borrowers can leverage the cosigner's credit score and income to get the financing they may not have obtained on their own.
Competitive rates: The fixed interest rates start at 4.99% APR, while variable interest rates start at 4.89% APR. Fixed rates and variable rates are currently capped at 13.46% APR and 13.71% APR, respectively. That's a respectable interest rate for a student loan.
High maximum loan amount: Borrowers with high student loans may not get sufficient financing from most lenders. Citizens Bank lets borrowers obtain up to $750,000 in funding for their loans, which is higher than most lenders.
The Drawbacks
High credit score requirement without a cosigner: While Citizens Bank lets you get a cosigner, it can be more difficult to get a student loan if you don't have one. Citizens Bank has a 700 credit score requirement for its student loans. If you have that score, you can get a loan on your own, but if not, you may need a cosigner.
High minimum loan amount: If you have a small balance on your student loan or only need to take out a small loan, Citizens Bank's minimum requirement may not be enticing. You have to borrow at least $10,000 for your student loan or refinance.
Income requirement: You have to earn money to get a loan from Citizens Bank. The minimum income requirement is $24,000. Many part-time jobs and side hustles can provide the sufficient $2,000/mo, but not every college student may want to take on a part-time or full-time job while studying.
Home Loans
Citizens Bank is also a home loan servicer that helps consumers with mortgages, refinances, constructions, and home equity lines of credit. Borrowers go through a quick prequalification process to see what loan offer they will receive. Citizens Bank has several mortgage resources that address myths and provides advice for first-time home buyers.
The Benefits
Competitive rates: The fixed rate for mortgage loans and refinances is 6.231% APR for a 15-year loan and 6.643% for a 6.643% loan. You can also get an adjustable-rate mortgage loan which starts with a lower interest rate (6.50% APR for 30-year mortgages and 6.00% APR for 15-year mortgages). After a few years, this interest rate will begin fluctuating. ARM loans are best for borrowers who plan to sell within a few years or believe interest rates will go down over time.
Home Financing Coverage: You can get a mortgage, refinance, home equity line of credit, or construction loan. If you need financing for a new home or want to tap into your home's equity, Citizens Bank has many solutions available. However, if you want a home equity loan, you will have to go with another lender.
Low minimum down payment: If you take out a conventional mortgage, you only need to make a 3% down payment. FHA loans have a 3.5% down payment minimum. FHA borrowers with credit scores between 500-580 will need to make a 10% down payment. A lower down payment means higher monthly payments and PMI, but the low down payment can help you become a homeowner sooner.
The Drawbacks
Requirements aren't as clear: Citizens Bank doesn't post requirements about your credit score, debt-to-income ratio, and other specifics on their website. You will have to provide your information during the prequalification process to see which loan offers you can get. Some home loan providers make it easier for borrowers to find the requirements.
HELOCs aren't available everywhere: Citizens Bank home equity lines of credit are only available in 18 states and Washington, D.C. If you are not within those 18 states or D.C., you will have to get a home equity line of credit from another mortgage lender.
No USDA loans: USDA loans have favorable terms for borrowers who want to buy rural properties. Unfortunately, Citizens Bank currently does not offer these loans. If you want a USDA loan or home equity loan, you will have to find another lender.
Auto Loans
For most people, their most significant purchase is their home. While a home is the most expensive investment for most people, cars usually hold the #2 spot. An auto loan can help you purchase a car sooner, and you can modify the loan's term to lower your monthly payments or get out of debt sooner.
The Benefits
Car Search: Citizens Bank has a useful car search feature that lets you filter cars based on their year, model, condition, and other factors. If you have been looking for a car for a while, this car search feature can get you closer to the right vehicle.
Low loan minimum: If you don't want to borrow much money for your car, you can get started with a $5,000 loan. The maximum loan amount is $50,000 which is high enough to finance most car purchases.
No prepayment fees: Want to repay your loan early? You won't have to worry about prepayment fees. Some auto lenders charge these fees, which can cancel out the savings from paying off an auto loan early. Citizens Bank borrowers do not have to worry about these costs if they want to get out of debt sooner.
The Drawbacks
Minimum credit score requirement: You need good credit to qualify for an auto loan. Citizens Bank accepts applicants who have a 640 credit score. The lender will also look at your debt-to-income ratio and other details to see if you are a good fit for one of their auto loans.
You need dealership financing: Citizens Bank pairs you with dealerships to get the financing for your loan. The terms may not be as good under this arrangement.
No auto loan refinance option: Auto loan refinancing is a popular way to cut down on monthly payments, get out of debt sooner, or get extra cash. Unfortunately, Citizens Bank does not offer a refinancing loan for their auto plans.
Credit Cards
Citizens Bank offers several credit cards, making it possible to find a card that matches your spending and financial goals. Some of their cards have high cashback rewards programs, while others specialize in low interest rates.
The Benefits
Citizens Bank clients have many choices: The bank makes it easy to browse through credit card choices and find the right one for you. Some credit card issuers give their users a small number of choices.
Choose between low interest rates or higher cashback: You can get a credit card that aligns with your financial spending and desire for rewards. You can get 2% cashback on every purchase with their Citizens Wealth Cash Back Plus World Mastercard. Citizens Bank credit cardholders can get more out of their cards.
0% APR for 21 billing cycles: Do you have a lot of credit card debt on your other card? You can transfer the balance to a Citizens Bank credit card and not worry about interest accumulation for 21 billing cycles. That gives you almost two years to chip away at the principal, so you don't pay as much interest in the future.
The Drawbacks
High APR: This is a disadvantage you will find with most credit card issuers. You can get a rate as low as 18.24%, but your credit card's interest rate can go up to 26.24%. While the high APR can be intimidating, it will not affect you if you pay off your credit card debt and live below your means. You will also get an introductory 0% APR to compensate for the high APR.
You need a good credit score: Most borrowers need a 660 credit score or higher to get a Citizens Bank credit card. You will have to sharpen your credit report with good payment history and other actions to raise your score. Some borrowers may need to get a secured credit card before getting a Citizens Bank credit card.
There is a balance transfer fee: If you transfer your balance from one credit card to a Citizens Bank credit card, you will have to pay a fee that is either $10 or 4% of the transferred balance, depending on which number is higher. While the balance transfer fee can be expensive, it can save you from compounding interest due to Citizen Bank's generous introductory 0% APR period.
Trustpilot Reviews
Citizens Bank doesn't have the best ratings on Trustpilot. The average 1.3 stars out of 5 spread across 234 reviews. We have selected some of the 5-star reviews to highlight what some people like about the bank, but these seem to be the exception rather than the rule.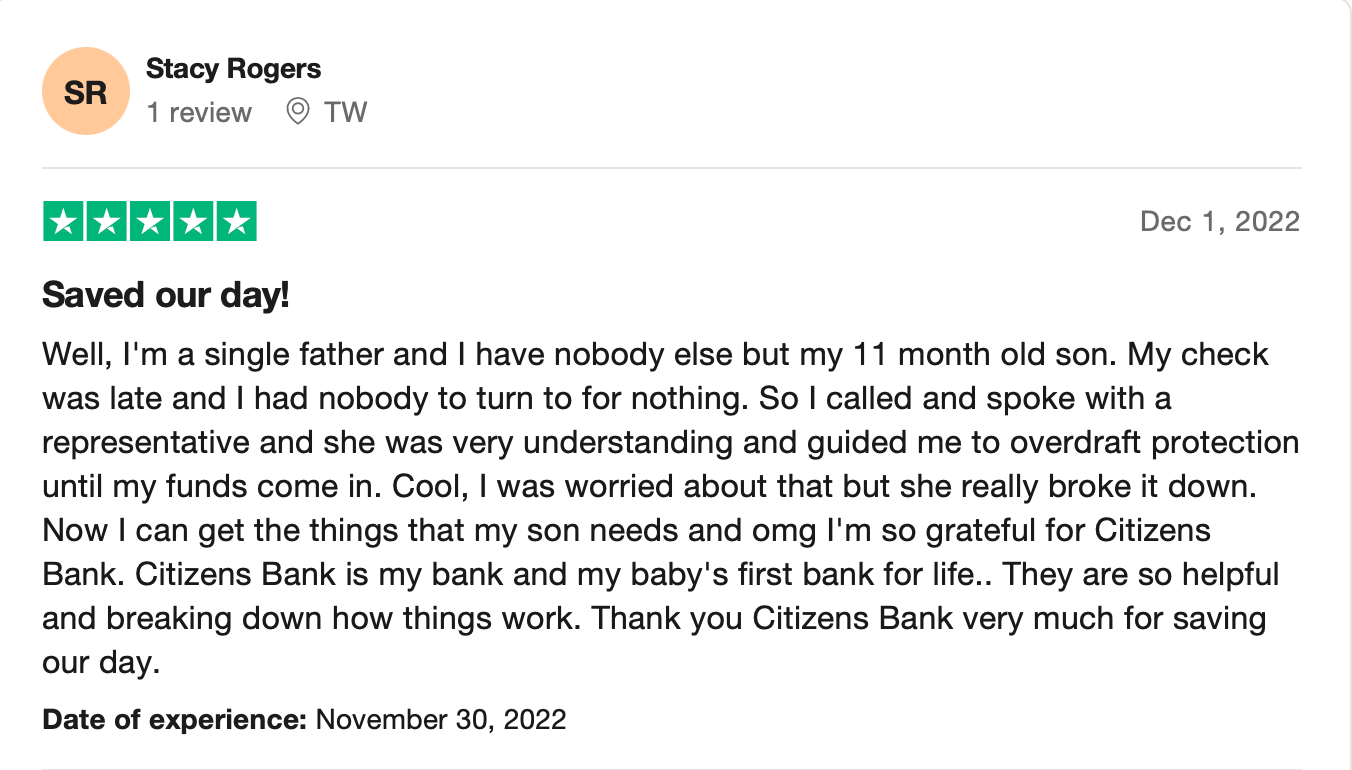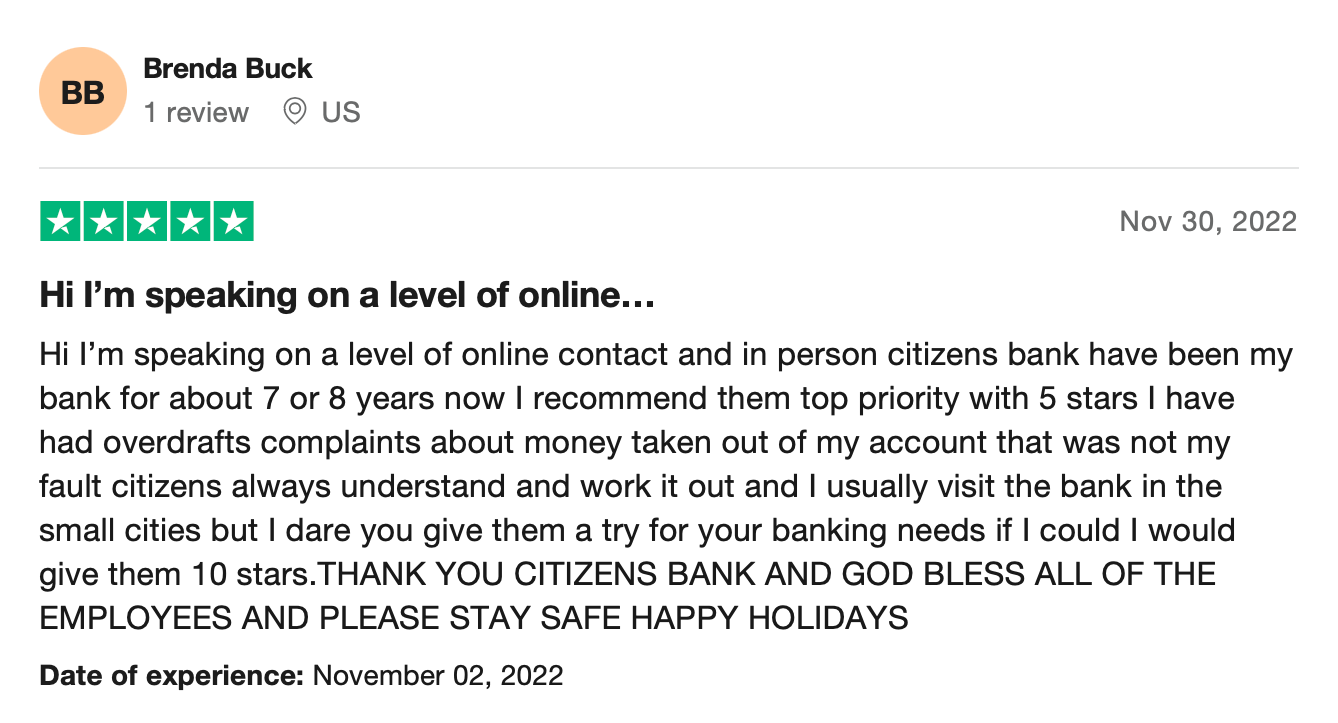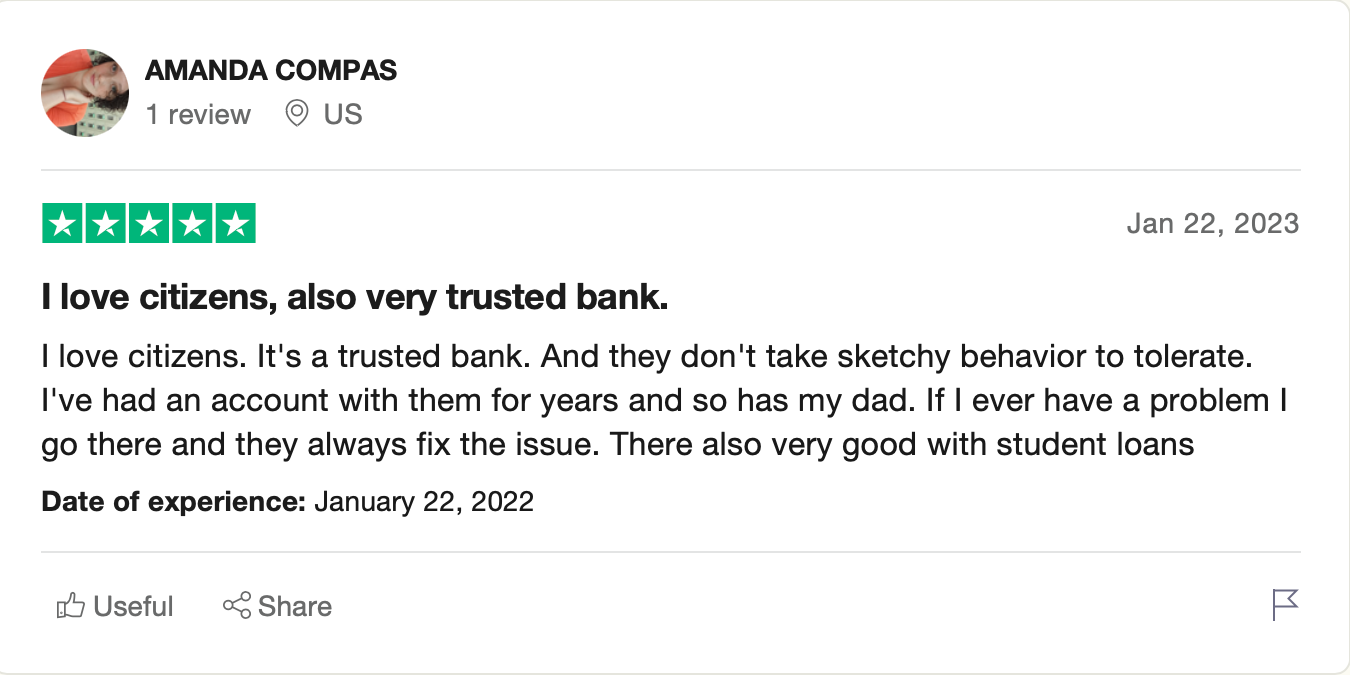 Frequently Asked Questions
Is Citizens Bank good for student loan refinance?
Citizens Bank has competitive rates for its student loan refinancing program. You can borrow up to $750,000 with one of their student loans.
Is it worth refinancing student loans right now?
That depends on what you want to accomplish with a refinance. A student loan refinance can help you reduce your monthly payments. However, you might get stuck with a higher interest rate if your current loan has a low rate. You should assess your refinance offers and how much space you want in your monthly budget.
Why is it hard to refinance student loans?
Refinancing student loans can be hard for various reasons. Lenders usually have high credit score requirements, and you may need a sufficient debt-to-income ratio. Citizens Bank makes it easier by allowing borrowers to add cosigners to their loans.
Can student loans be refinanced?
Student loans can be refinanced. You can refinance federal and private loans to modify your interest rate and monthly payments. A refinance essentially replaces your current loan with a new loan.
What are the risks of refinancing student loans?
Refinancing student loans isn't for everyone. Borrowers with federal student loans lose federal benefits if they refinance with private lenders. You can also get stuck with a higher interest rate and pay more interest over the loan's duration if you add more years to the backend of the loan. If you reduce your loan's duration, you will get out of debt sooner but have to contend with higher monthly payments for the time being.
Is it better to refinance student loans with a bank?
It can be better to refinance student loans with a bank. Each borrower should look at several options and compare rates and terms. A student loan refinance represents a significant decision, and you should shop around before committing to a loan offer.